<![CDATA[
( ENSPIRE NEWS ) 
LA Will No Longer Arrest Children Forced Into Sex Trafficking
Anyone under 18 who performs a commercial sex act in exchange for compensation is by definition a victim of sex trafficking, not a prostitute.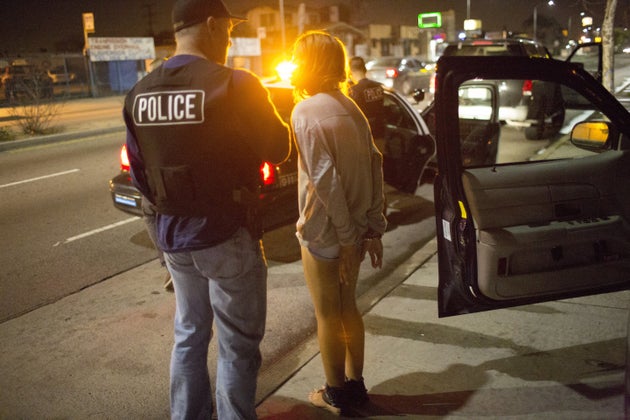 Every year, more than 1,000 children in the U.S. are arrested for prostitution, even though most of them aren't even of age to consent to sex.
Los Angeles is now fighting this figure by stopping to arrest children who have been forced into the sex trade, Los Angeles County Sheriff Jim McDonnell announced this week, the LA Times reported. It's a move that officials and advocates hope will put survivors where they belong — in rehabilitation programs, not behind bars.
"While at times some have used the terms 'child prostitute' or 'underage prostitution' to describe victims of child rape, children cannot consent to sex," McDonnell said in a statement.
McDonnell's announcement comes at a time when advocates are working to shift perceptions of sex trafficking victims across the board in order to arrest the people who are actually perpetrating the crimes, and to give survivors a chance at escaping and healing.
According to federal law, any individual under 18 who performs a commercial sex act in exchange for compensation is by definition a victim of sex trafficking, not a prostitute.
Yet, in California, as is the case in many other states, juvenile prostitution carries a sentence of up to two years. 
[caption id="" align="aligncenter" width="630"]
In this Sept. 24, 2014, file photo, a city employee sets up a display board in preparation for a news conference to announce the results of a task force's eight-month effort to target sex traffickers in the Long Beach, Calif. Officials in Los Angeles County, the nation's most populous, are adopting a get-tough tactic to deter men from soliciting sex from girls who are forced into prostitution – charging them with crimes that could mean prison time and registration as a sex offender.
[/caption]
Such was the case when Tami, 15, was kidnapped by a pimp on her way home from school in L.A. He raped, beat and starved her for six months and, at night, he sold her to other men for sex, Malika Saada Saar, director of the Human Rights Project for Girls, wrote in an op-ed for The Washington Post.
When Tami finally found her way to the police, they arrested her.
These victims are often arrested because officials either see no other way to access intervention services for the victims, or authorities simply haven't been trained in how to handle such cases.
To help reform the system, McDonnell is directing his deputies to reach out to service groups who can help children in the sex trade. That includes the Department of Children and Family Services and community organizations.
The city will be able to expand its resources for combatting human trafficking crimes with the help of a recent $1.5 million federal grant, which will be used to establish a human trafficking task force that will be led by the United States Attorney's Office and the Los Angeles County Sheriff's Department.
That's part of a $44 million nationwide grant, which will support anti-trafficking task forces around the country.
Keeping trafficking victims out of jail not only directs them to services that can help save their lives, but also keeps their records clean.
A major issue sex trafficking victims face, even once they escape the life, is that they've been convicted of crimes they were forced to commit, which they can't get vindicated.
The broken system leaves the victims struggling to get housing, jobs and other basic necessities to live independently.
[caption id="" align="aligncenter" width="630"]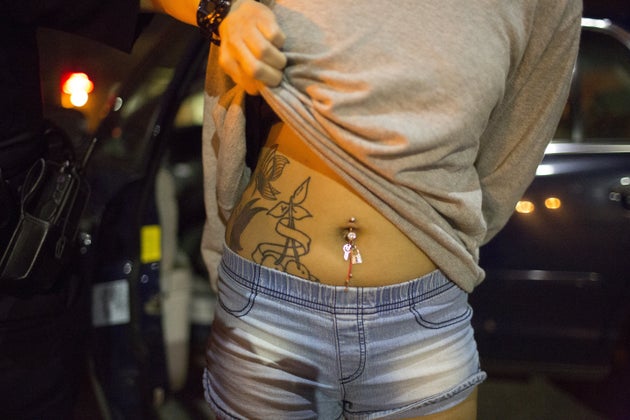 FEBRUARY 2: A 17-year old girl in hand-cuffs is searched for tattoos and questioned February 2, 2013 by a vice squad policeman with the Los Angeles Police Department's South Central's 77th Street Division about committing prostitution in Los Angeles, California. While the charge of soliciting or loitering with the intent to commit prostitution is a misdemeanor, the girl will be held for 2-4 days.
[/caption]
Nicole, a New York resident, faced that very predicament for years.
She was exploited for sex from the late '90s to the early 2000s and collected five drug, prostitution and loitering-related charges during that period, she told The Huffington Post in May.
But even after she escaped her trafficker, she struggled to get a job because employers were put off by her record.
"Since sex trafficking has existed, victims have been punished for the crimes their traffickers have forced them to commit," Kate Mogulescu, a public defender at Legal Aid in New York City who works with Nicole, told The Huffington Post.
Mogulescu, who helped launch the Exploitation Intervention Project at Legal Aid, was eventually able to vacate Nicole's convictions last December.
McDonnell hopes to better educate authorities, and to empower victims, by also ceasing to use damaging terminology. Part of McDonnell's strategy includes joining up with the there's "No Such Thing as a Child Prostitute" campaign.
With support from Google, the Human Rights Project for Girls (Rights4Girls) and the McCain Institute launched the campaign last January. The goal is to hammer home that children can't possibly opt to sell their bodies if federal law qualifies having sex with a minor as rape.
"They are child victims and survivors of rape," McDonnell noted. "Portraying these vulnerable children as anything else fails to acknowledge the trauma and victimization they have endured and serves to cloud the role of the crimi
nally involved offenders."]]>