( ENSPIRE Entertainment ) Elena, Incredible and Versatile Actress Adapts to Many Roles
ENSPIRE Contributor: Devyn Petraglia

Elena Sanchez is a 35-year-old stunt performer who has become a rising star. Born in Germany, Elena has become a breakout star in the US. She started performing during her childhood in roles like "Return to Neverland" and "The Nutcracker." She dedicated her life to gymnastics but realized her interest in acting after attending Cornell University. It was then that she began studying drama. After graduating, she moved to NYC and continued her studies at Lee Strasberg Theater and Film Institute. She played the lead role in several short films and went back to school to study at the Royal Academy of Dramatic Art in London. After her studies, she took on roles in "The Hunger Games: Catching Fire," "The Walking Dead," "Sleepy Hollow," "NCIS," and several others. Her next project will be released in Fall 2021, "Demigod." She has done roles in four languages and taken on roles as diverse as a secretary, drug addict, assassin, and more. In one film, she hung from a helicopter flying through Atlanta to Germany, while in the arms of a superhero. As an actress, she has acted alongside Nicholas Cage, Anna Kendrick, Hayden Christensen, and Sam Rockwell. Having over a decade of experience, she has worked alongside Tom Cruise, Sylvester Stallone, and Gerard Butler. She continues to take on lead roles and make a name for herself.
Elena Sanchez sets an example for anyone with fears and proves that we can accomplish anything we set our minds to. Being a stunt performer requires much skill and knowledge to avoid any risks involved. Being a stunt performer also comes with serious risks and you could easily get injured on set. She continues to rise to stardom despite this as she takes on many roles. Her talents are remarkable and she truly sets an example for anyone wanting to be an actress. If she can overcome the fear of being a stunt performer, anyone can. Her new film "Demigod," which debuts in Fall 2021, is about a woman and her husband, who upon the death of her grandfather, return to her birthplace in Germany's Black Forest – only to find a terrifying secret awaits them.
ENSPIRE spoke with Elena Sanchez about her journey of being a stunt performer and how she sets an example for her community.
Can you tell us your daily routine?
My daily routine changes all the time, so I guess it's not much of a routine! If I'm working on a movie, I never know what to expect. I might wake up as early as 4 a.m. to get to set, spend all day there, and get home late in the evening. If I'm not working on a set, I'll be working on getting my next job. But I'm definitely not a morning person, so if I'm not on a project, I don't get up before 9 a.m. After breakfast, reading the news, and social media, I'll get to my emails, or tape an audition my agent sent me, or edit a video for my YouTube channel. I'll try to get a workout in during the late afternoon, then maybe watch an episode of something on Netflix, and head to bed around 11 p.m.
What is the most terrifying part about being a stunt performer?
There is nothing really terrifying about being a stunt performer. I wouldn't want to have a job that terrifies me! Everything we do is planned carefully, to minimize risk and danger. The most terrifying part, and also of being an actor, is finishing a job and wondering if you're ever going to work again… but at some point, you realize that if you put in the work, you'll continue to work.
How did you overcome the fear of being a stunt performer?
The only fear I ever really had was a fear of not doing a good job. When there were certain stunts that I was asked to do but had never done before, there is that feeling of wanting to perform well so it will look good in the film, everyone is happy, and no one is hurt. Part of overcoming that is being honest with yourself and the stunt coordinator about your abilities and only taking jobs you know you can handle. The other part of it is trusting your body and those abilities, and knowing that you were put in this position because you are able to react and perform as needed.
How has it helped your career?
Performing stunts has definitely helped my career as an actor in a variety of ways. First, working as a stunt performer gave me so much time on set to watch and learn from everyone there, from the actors to the director and the entire crew, and also to learn the ins and outs of what it takes to make a movie. That has been invaluable knowledge to have. I also became very comfortable performing, and knowing what my body is capable of, and understanding how physicality looks on screen, which is very important for actors. Finally, having a stunt background also means I can book physically demanding roles and do my own stunts, instead of having to have a stunt double!
Can you tell us more about the roles you've been part of and the experience you had with each?
Ah, well that's a difficult question to answer in a limited space! I've been lucky to work on a wide variety of different projects, including everything from $200K independent films to $300 Million Hollywood blockbusters. No matter the budget, each experience has been unique and exciting, and what makes them each special is the story we put on screen, and the people I get to do that with.
What is one success story you've had since beginning your acting career?
When I was working as a waitress in New York City, I was walking home after a shift late one night and came across a movie that was filming. I stood on the sidewalk with other spectators and quietly watched as Nicolas Cage filmed scenes for "The Sorcerer's Apprentice." Nic was one of my favorite actors while I was growing up, and right there on that sidewalk, I promised myself that I would work with him one day. A year and a half later, I was standing on set with him on my first film as a stunt double, called "Trespass." And five years after that, I was working with him as an actress, and filmed a scene with just the two of us where I play a receptionist. I love telling that story because sometimes the first step to making something happen is just putting a thought out into the universe.
How has the journey been since graduating to now?
It's been a journey! There has been a lot of blood, sweat, and tears, but also a lot of laughter and joy. I appreciate it all. I never had a timeline, because that would just be setting myself up for failure, and it's important to celebrate successes, no matter how small. Sometimes I have to pinch myself that I'm actually living my dream. I have a job that I love that I am able to pay my bills with, I have a roof over my head and food in my fridge. I feel incredibly fortunate.
What are your plans for the future?
I want to continue being a part of stories that inspire people or make them laugh, or take their minds off of whatever challenges they are facing in life. I've also become more interested in producing lately, so I can help bring those stories to life, while also acting in them.
Can you tell us more about your new film: Demigod?
"Demigod" is about a woman and her husband who return to her birthplace in Germany's Black Forest after the death of her grandfather. Once they get there, a terrifying secret awaits them… including me, as Latara the witch!
How does your role in Demigod compare to your past roles?
There are definitely some similarities, for example, I have played mythical creatures before, and worked with prosthetic makeup. But I have never before played a German role, so that was very exciting to me, seeing as I am half German and was born there. Also, Latara's complexity was fascinating to me, and I really enjoyed bringing that to life on screen. I also got to do a really cool stunt, which is at the end of the movie, so I won't give it away, but it's something I had never done before!
What do you hope the audience takes away from the film?
I'm hoping that the themes in Demigod resonate with people on a deeper level, but that people are also entertained and get some good scares out of it, just in time for Halloween!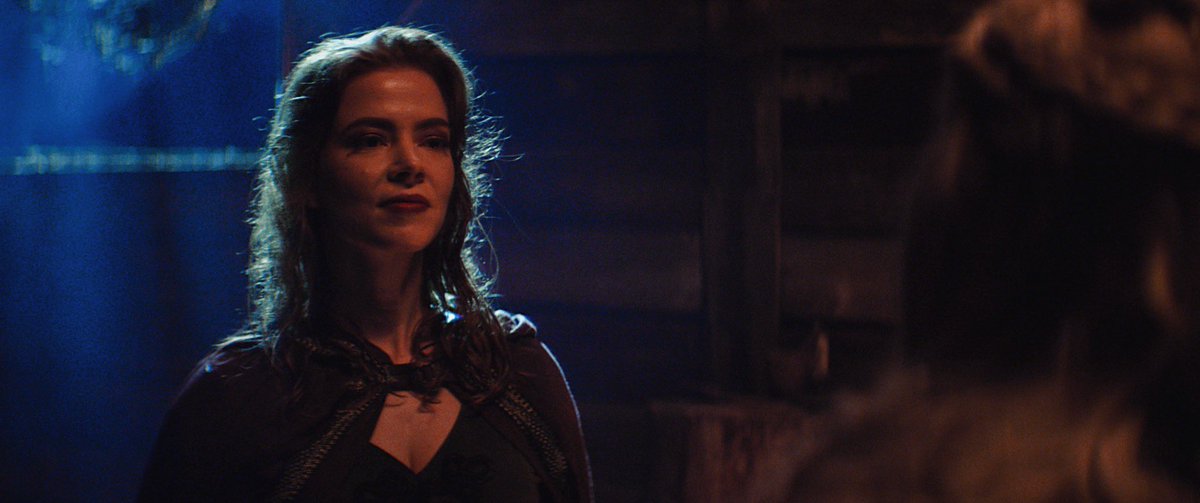 Overall, Elena Sanchez is an incredibly brave and fearless woman who sets an example for all of us. We should all follow her example and overcome our fears because being a stunt performer comes with so many risks. To anyone wanting to be an actress, she is an amazing success story. She dedicated her life to gymnastics and later dedicated her life to stunt performing. The amount of work she put into her career and dreams is amazing. She will continue her journey of success in her new film "Demigod".
Check out the trailer for Demigod here:
You can follow Elena Sanchez here:
A similar article you may enjoy: Actress Rayven Symone Ferrell Stars In 'Through Her Eyes'