( ENSPIRE Sports ) Simone Biles Breaks The Gymnastics Record for Both Males and Females With Winning Her 25th Medal
Biles is now the Queen of Gymnastics, smashing the record that Vitaly Scherbo held with 23 medals. In her very young career, Biles has dominated everything that was thrown at her and even had the committee name some routines after her. Just this week alone, Biles has won five medals.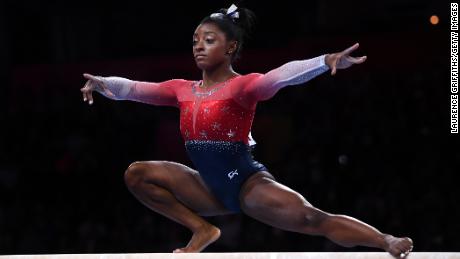 Biles scored 15.066 on the beam, after a flawless routine. Biles played it safe by doing a simpler dismount than the double-double she performed earlier in the championships.
Biles had this to say about her accomplishments; "I haven't got a chance to process it yet, but I think we'll do some celebrating tonight for all of it — for the team, for the medal count, for the fifth year in a row."
With the Olympics right around the corner, Biles has a great chance of bringing more medals to the United States, as well as extending her individual medal count.
Biles has been an inspiration for a lot of young athletes, as well as different people in the world, because she has defined adversity. Biles is 4'11, but you couldn't tell that from all the unique twists she puts in her routine. She shuts down critics with her positive energy, as well as putting on a show as she competes. 
Biles is an example of the "Little Engine That Could", she knows what she is capable of and wants every routine to be crisp and the epitome of perfection. She is only 22-years old and has a lifetime of achievements because she sacrificed a lot to get to where she wanted to be. A lot of people she has worked with admired her mental toughness when she competes.
"That's why we put her up last," said Tom Forster, high-performance coordinator for the U.S. women's team. "In those moments, you have to sink the free throw or your team loses, and she always makes it. Within gymnastics, people understand how mentally tough she is, but I don't think she gets enough credit for her mental skills from the rest of the world's perspective. She's not like anybody we've seen."
Biles has an uplifting attitude that attracts everyone around her and her teammates, coaches, and her support system loves that about her. "Simone is amazing. She has so much experience and is very inspiring," said 16-year-old Sunisa Lee, the youngest member of Team USA in Stuttgart. "She really helped me get through this competition. She's given me a lot of pep talks this week."
Biles' accomplishments are phenomenal, but the message that she shows everyone the in routine, interviews, or during adversity is keeping your head up during the rough times in life and let your work ethic and actions speak louder than words.